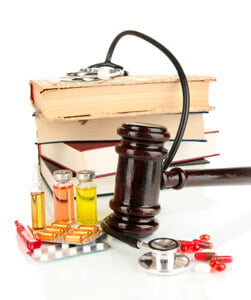 Determining whether or not you have a case is a difficult task and our New Jersey medical malpractice attorneys are always available to discuss your situation. When you seek care or treatment from a healthcare provider, you expect that you will receive proper care and will not suffer unexpected injuries. Most patients receive adequate care, yet some receive inadequate care that leads to injuries. In fact, medical malpractice occurs more often than one would expect. When it does happen, you should consult with a malpractice lawyer in NJ.
What is medical malpractice?
Medical malpractice, or medical negligence, is a legal term that describes a situation in which a medical professional deviated from the proper standard of care. In other words, it is a situation in which a physician acted in a negligent manner by not providing proper care to his or her patient.
Am I eligible for compensation if I was harmed by a medical provider in NJ?
State statutes govern medical malpractice lawsuits. In New Jersey, an injured patient has up to two years to file a claim for compensation. To be eligible for damages, you must be able to prove that a medical professional acted negligently and that this negligence caused your injuries. These cases are complicated, and the specific facts of each case can affect your eligibility for compensation.
An experienced New Jersey medical malpractice attorney at The Rothenberg Law Firm will need to examine the particular aspects of your claim before determining if you have a valid case.
***Your initial consultation with a medical malpractice lawyer in NJ is always free.
***We do not take any fee unless we are successful in winning money for you.
What Kinds of Healthcare Providers Can Commit Medical Negligence?
Several different kinds of healthcare professionals can act negligently, thereby causing injury to a patient. Generally speaking, you may be eligible to file a medical malpractice claim against any of the following:
Physicians and surgeons

. This is a broad category that includes primary care physicians, specialists, and even emergency room doctors.

Nurses

. Although nurses take instruction from a physician, nurses are healthcare professionals and can behave negligently.

Dentists

.

Staff members and technicians

can be held liable for medical negligence in certain circumstances.

Hospitals

. If you were injured because of medical malpractice while in a hospital, you may be able to file a claim against the hospital itself.
How Will I Be Compensated for My Medical Malpractice Injuries?
Compensation for medical malpractice can be a bit tricky to understand. In general, medical malpractice damages include both economic and non-economic damages. Both of these are forms of compensatory damages, or those intended to compensate a victim for his or her injuries. Economic damages provide compensation for losses that have a specific number attached to them, while non-economic damages provide compensation for losses that can not always be quantified. Consult with experienced malpractice lawyers in New Jersey to understand what compensation your injury deserves. Examples of economic damages include:
Payment for

medical expenses and hospital bills

that stem from your injuries.

Compensation for

lost wages

and

lost earning

capacity if you're unable to work because of your injuries.

Future medical bills that you will have to pay for

rehabilitation

and

physical therapy

.
As you can see, economic damages are those that can be calculated objectively—you'll have precise hospital bill payments and calculated costs for your rehabilitation treatments. Non-economic damages are different and may include any or all of the following:
Damages for the

pain and suffering

you experienced as a result of your injury. The jury will determine the proper amount.

Compensation to repay you for the pain of

disfigurement

and

disablement

, or for the loss of enjoyment of life you've experienced (and will continue to experience) as a result of your injury.
If you have been injured because of medical negligence, it is important to speak to an experienced New Jersey medical malpractice attorney.
How Much is My Medical Malpractice Case Worth?
Every case is different, and it is nearly impossible to put a precise number on a medical negligence case. Yet we can look to medical malpractice payout statistics to get a better idea of the kinds of damages plaintiffs might be able to receive.
Generally speaking, there are thousands of medical negligence payouts each year, and they tend to be very high. According to data reported by the U.S. Department of Health and Human Services' National Practitioner Data Bank, there were more than 12,000 medical malpractice payouts in 2012 alone. The majority of these come in the form of settlements, while only about 5 percent result from judgments and jury verdicts. One of our experienced medical malpractice lawyers in NJ can discuss your options for compensation with you in detail.
What Types of Medical Negligence Result in Lawsuits and High Payouts?
Medical malpractice can happen at nearly any point during a relationship with a healthcare professional, from an accident during a routine check-up to a failure to diagnose a life-threatening injury. According to data collected by the National Practitioner Data Bank, medical negligence lawsuits typically result from the following types of medical malpractice:
Diagnosis errors and misdiagnoses (33%). These can include a delayed diagnosis, an incorrect diagnosis, or a testing error in cases where a patient suffers from a serious disease such as cancer or high blood pressure.

Surgical errors and mistakes that occur during surgery (24%). These can include but are not limited to issues with a patient's informed consent, errors during anesthesia, and leaving foreign objects in the body after surgery.

Treatment mistakes (20%). These can involve situations where a healthcare professional has delayed treatment or provided the wrong treatment for a serious disease, and the patient has suffered injuries as a result of the doctor's negligence.

Obstetrics errors and birth injuries (10%). These cases can include many different errors, including mistakes during pregnancy, as well as those during labor and neonatal care.
Other errors include medication errors, which can involve prescribing the wrong medication for a condition or failing to account for a dangerous drug interaction.
Seeking Help from a New Jersey Medical Malpractice Attorney
If you have sustained an injury due to a doctor's negligence, or if you have lost a loved one because a healthcare provider made a serious mistake, you may be eligible to file a claim for compensation. It is important to speak to experienced medical malpractice lawyers in NJ about the best way to move forward with your case.
It is extremely important to keep in mind that New Jersey has a two-year statute of limitations for filing a medical malpractice lawsuit. Contact the malpractice lawyers in NJ at The Rothenberg Law Firm LLP today to discuss your case. Your initial consultation with a New Jersey medical malpractice attorney is always free and we work on a contingency fee basis. This means, we do not collect any fee from you, unless and until we are successful in winning money for you.