All car accidents that take place on public roadways can cause serious injuries, but pedestrian accidents in particular are often the most severe. Without any protective shielding, the pedestrian crash victim may suffer life-changing or even fatal injuries.
If you were injured in a pedestrian crash, consult for free with an experienced New Jersey personal injury lawyer at The Rothenberg Law Firm. We can serve as zealous advocates for you and immediately begin building your case and investigating the facts surrounding it. We will not rest until we're done fighting to get you the fair compensation you deserve.  With the help of an experienced pedestrian accident lawyer from our personal injury law firm, we will ensure that you meet all legal deadlines, and will handle all communications and negotiations with the insurance company on your behalf.
Many pedestrian accident lawsuits settle out of court, but should you need to go to court to resolve your case, our personal injury attorneys will take your case to trial and will make sure you receive the maximum compensation you deserve.
If you were seriously hurt in a crash, or if you are an injured pedestrian, it is important that you focus on what matters most: beginning to heal physically, and emotionally getting the best medical treatment. Our lawyers take care of the rest so that you can focus on getting better.  Reach out today for a free case evaluation to see how we can help you obtain the maximum compensation you deserve.
What Are Common Types of New Jersey Pedestrian Accidents?
There are a number of common scenarios that lead to pedestrian accidents. New Jersey pedestrian crashes often involve:
Speeding, which in most cases means that motorists are going above the speed limit. But, in some cases speeding may occur when the driver is traveling under the speed limit but is still driving too fast for the current weather conditions.
Low visibility. This can be caused by darkness, weather conditions such as snow, rain, or fog, or just because negligent drivers are more accustomed to looking for other motor vehicles than they are pedestrians.
Distracted driving, such as texting, reading, or browsing the internet while driving.
Driving under the influence of alcohol or drugs.
Right turns and left turns. While preparing to turn, drivers are often laser-focused on spotting other motor vehicles, but fail to focus on pedestrians crossing the street who may have the right of way .
Impacts while backing up. Whether in a parking lot or on the side of the street, drivers may be going in reverse while attempting to pull into or out of a parking space and fail to see a pedestrian.
What are Common Pedestrian Accident Injuries?
As mentioned above, without having the protective shielding that a motor vehicle provides, pedestrians often suffer severe or catastrophic injuries in a crash, even a tragic wrongful death. Our attorneys at The Rothenberg Law Firm have seen a wide variety of injuries from pedestrian accidents, including the following: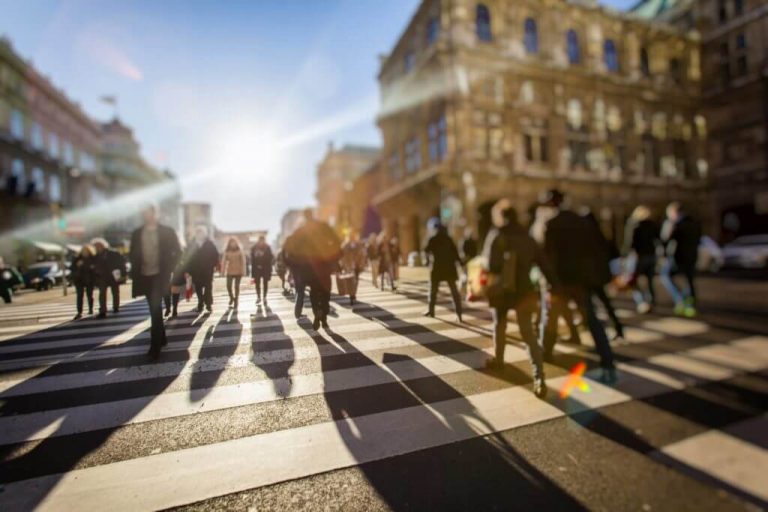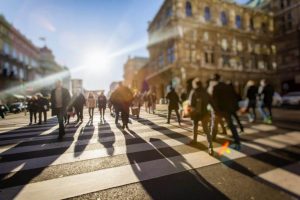 Head injuries such as Traumatic Brain Injury (TBI)
Neck, back, and spinal cord injuries
Broken bones; fractured bones
Organ damage
Ligament or soft tissue damage
Severe lacerations or cuts
Permanent scarring or disfigurement
Amputations
Paralysis
Pedestrian Deaths; pedestrian fatalities
What is the Statute of Limitations for Pedestrian Accidents in New Jersey?
If you have been injured in a pedestrian accident in New Jersey, the statute of limitations is typically two years. This means that, unless an exception applies to your case, you must file a lawsuit within two years of the date of the crash or risk forfeiting all legal rights to your personal injury claim.
If a public entity may have caused the collision, then you only have 90 days within which to file a Notice of Claim. With time being of the essence, it is crucial that you consult with an experienced pedestrian accident attorney as soon as possible to ensure that you meet all legal deadlines or discover whether or not an exception to the statute of limitations applies to your pedestrian accident claim.
Compensation for Pedestrian Accidents in New Jersey
For victims that have been injured in a pedestrian accident that was caused by another person or entity, New Jersey law enables them to recover financial compensation for their damages by means of filing a personal injury lawsuit. Victims may receive economic, non-economic, and - in the most egregious of cases - punitive damages.
Here are some of the damages that are commonly sought by pedestrian collision victims:
All medical expenses, such as transportation from the accident scene to the hospital, emergency room bills, general medical bills, hospital stays, assistive devices, prescription medications, surgeries and procedures, physical therapy, psychological therapy, home modifications necessitated by the victim's injuries, and in-home care.
Lost wages and loss of earning capacity. Lost wages covers wages that the victim did not receive - or will not receive in the future - due to missing work as a result of his or her injuries. Loss of earning capacity comes into play when the plaintiff is able to return to work in a reduced capacity, and covers the gap between what the victim would have made had the accident never happened and what the pedestrian actually makes post-injury. In many cases, especially with catastrophic injuries, individuals may be too injured to return to work at all.
Physical and emotional pain and suffering, both of which can be severe. Not only can life-changing injuries cause intense physical pain for years to come, but the emotional trauma that victims can suffer can be just as severe.
Loss of companionship, as some of the victim's closest relationships may suffer significantly due to the victim's physical and emotional injuries.
Loss of enjoyment of life. Many of the activities that the victim enjoyed most before the accident will no longer be doable due to the plaintiff's injuries.
Punitive damages, which may be awarded if the defendant's actions were particularly egregious. The purpose of punitive damages is to deter the defendant and society at large from ever doing what the defendant did again.
Who's Liable for My Injuries After a Pedestrian Accident in New Jersey?
When a pedestrian is hit through no fault of his or her own, then the driver that hit him or her may be held liable if he or she was negligent. Sometimes there are multiple defendants in a pedestrian accident. For example, someone was hit by a delivery truck during the course of that drivers' daily truck route for XYZ company. The employer/owner of XYZ company would also be held liable for your injuries. Moreover, in some cases, a public entity may be held liable, such as if the roads are improperly maintained or the vehicle that hit you was a government owned vehicle. It is important to contact a pedestrian accident lawyer for a free case review to determine all of the potential defendants who may be liable in your case.
Proving Fault in Pedestrian Accident Cases

In order to prove fault in a pedestrian accident case, you will need to prove that another person or entity was negligent in causing the crash. You will need to prove this by a preponderance of the evidence, which means that it is more likely than not. This is not an overly high bar to clear, as it just requires you to prove that it is more than 50 percent likely that the defendant was liable.
Proving negligence requires that the following elements are all met:
You were owed a duty of care. As a pedestrian walking or running on a public roadway, this element is usually easy to satisfy.
The defendant breached that duty of care. This typically involves breaking one or more traffic laws, such as speeding, running a red light or stop sign, driving under the influence, or failing to yield to pedestrians while turning.
The defendant's breach is what caused your accident.
You were injured in the crash.
How a Pedestrian Accident Lawyer in New Jersey Can Help
At The Rothenberg Law Firm, we have recovered billions of dollars in jury verdicts and settlements on behalf of our injured clients. We take pride in treating each client like he or she is a member of our own family, and this has enabled us to achieve justice for so many innocent victims since we launched our firm over 50 years ago.
At The Rothenberg Law Firm, we never take any money from our clients unless and until we win your case. If you have been injured in a pedestrian accident in New Jersey, call us today to arrange a free and confidential consultation. We are here to help you every step of the way and fight for your rights.